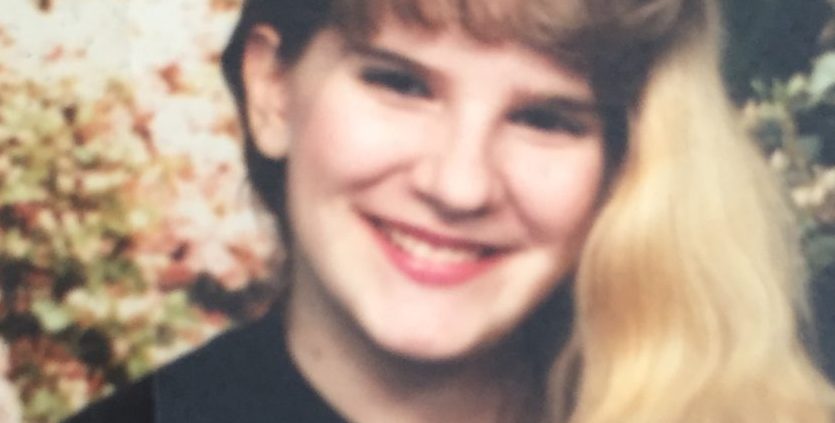 It's not my line; it's circa 1992 from Alabama's country hit "I'm in a hurry."
I love it.
It's one of those songs that whenever it comes on the radio, I stop what I'm doing and listen. It reminds me of Tonya.
I was sitting on the floor of my friend Christina's room, melting eye-liner with a lighter. Back in the day, we did that to make it soft so we could have super dark lines around our eyes.
We were getting ready to go the mall.
We were supposed to go to the mall.
Roy, Christina's step-dad, was the one who got the call. I can't imagine what that was like for him. He came running up the stairs screaming
"Tonya's dead. Tonya's dead. Tonya's DEAD."
Tonya died in a car accident that afternoon.
She was with her cousin, who tried to pass in a no-passing zone. He didn't see the other car coming. Tonya, the driver of the other vehicle and his wife, were all killed in the collision.
I was thirteen years old.
You don't forget the first time you lose a friend.
I turned 42 this week. Tonya is forever fifteen. 
And the truth is, I don't know why.
We're in such a hurry. We're rushing to get things done.
But why?
I'm privileged to have another birthday. To be able to celebrate with my family and friends. To squeeze my kiddo who's thirteen. The same age as I was when I lost Tonya.
I'm looking at 42 with a fresh set of eyes. With the sort of patience that, I think, only age can bring.
Don't be in such a hurry. 
Don't' rush so much to get things done.
Otherwise, you might miss the chance to be with the ones that you love the most.
Isn't that what life is all about?
Because, really, all we've gotta do is live and die.
https://pswithalex.com/wp-content/uploads/2019/09/IMG_1113-e1567521553496.jpg
1069
835
Alexandra Rufatto-Perry
https://pswithalex.com/wp-content/uploads/2018/04/logo_pswithalex-1.png
Alexandra Rufatto-Perry
2019-09-03 22:55:34
2019-09-03 22:55:34
All I really gotta do is live and die but I'm in hurry and don't know why