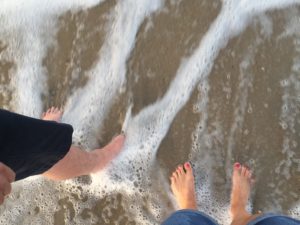 These are my toes in the sand, next to my dad's.
(It's a little blurry because we were trying to maintain balance at high tide on vacation last week)
It's a privilege to spend time with him.  The older I get, the more aware I am of that.   He doesn't walk as well as he used to.  Getting to the beach and standing in the waves wasn't as easy as it once was. Watching dad become unsteady on his feet is scary.
It puts me on edge.
I found myself thinking a lot about the word edge as we drove home.
The edge of the earth.
Being on edge emotionally, the tightness in your chest when there's tension.
On edge figuratively (cue Lady Gaga's Edge of Glory because you've almost "made it")
I don't know what it's like for you, but I'm on edge a lot lately.
I'm on edge personally and professionally. I'm doing what I was meant to do, with no guarantee of success. Our kids are on the edge of major life changes, an engagement, a new job, a new school.
There was a time where I would've considered being on edge as negative.
Not anymore.
As I reflected on standing on the edge of the ocean with my dad,  I realized there was no other place I'd rather be than on edge.
Sure it's scary and unnerving.
Yep, you might fall.  In fact, if you stand there long enough, falling is guaranteed.
Despite being so close to fear and failure, here's what I know about being on edge;
It's where you experience the most growth; where you learn to balance.
It's where you get to experience parts of life you never would if you didn't take the unsteady steps to get there.   Where you watch the tide roll in and spend irreplaceable moments with people you love.
I don't know about you, but for me, being on edge is better than the feeling of solid ground.
I'm on edge, and I plan on staying here.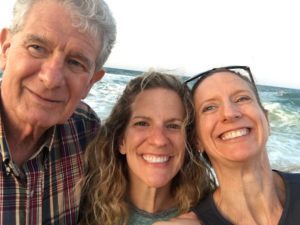 What do you think? Is being on edge a good thing?  Drop a comment below and share your thoughts! 
https://pswithalex.com/wp-content/uploads/2018/07/IMG_0004.jpg
2448
3264
Alexandra Rufatto-Perry
https://pswithalex.com/wp-content/uploads/2018/04/logo_pswithalex-1.png
Alexandra Rufatto-Perry
2018-07-18 05:25:56
2018-07-18 05:25:56
Are You on Edge?