My family plays games.
It is serious business in our household.
Super. Serious.
We play games almost every time we get together. We stay up late, eat too many snacks, and talk smack to each other while playing games. 
We're always on the lookout for new and interesting games.
So, when the opportunity came up for me to try Rhetoric, a public speaking game, I was like…
"Sweet Lord in heaven, sign me up for this!" 
Two of my favorite things to do collided in one moment!
Here's how it happened.
I follow John Zimmer's blog, Manner of Speaking.  John is an international public speaker, Toastmasters champion about a million times over (don't quote me on that number), lawyer and improv actor.
(This is John!)
A few weeks ago, I was reading one of his posts about a game he created with Florian Mueck (another well known public speaker) where he was talking about his game Rhetoric.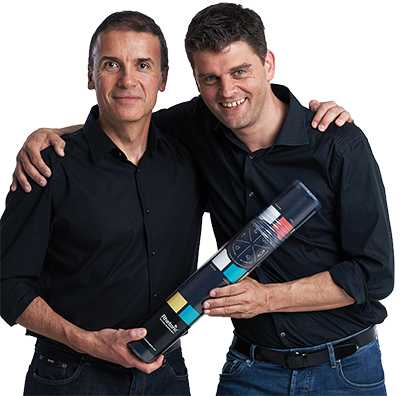 (John and Florian)
His point was, if we gamify public speaking, giving people the opportunity to do it more frequently, over time it becomes easier.
Brilliant!
I agreed and commented as such.
Next thing you know, John showed up in my inbox (ah the magic of the internet) and he asked if I'd like to try the game and review it.
I said something super cool and professional back but my "inside Alex"  was screaming…
"Ummmmm…. HECK YES!"
He graciously sent me the link to the app, and I've been having fun with it ever since.
Let me tell you how the game works,  what I love about it, how I'd change it and features I'd love to see added. 
The rules:
It works like any other board game. Roll the dice, move the required number of spaces and perform the task assigned on your card (Topic, Challenge, Reflection or Question).
In competitive mode, each player gets to rank the speaker on a scale of 1-5.  The winner, calculated by the app, wins a blue ribbon at the end.
Competitive speaking at it's finest, ladies and gentlemen.  
However, if you're looking for a more zen type of  experience, you can take the non competitive route, and still enjoy all of the same features; there's just no live scoring by your friends.  This is great for folks who want to simply practice.
What I love: 
1.) It's simple and easy to follow.
2.) It's available in six languages, all accessible on the app.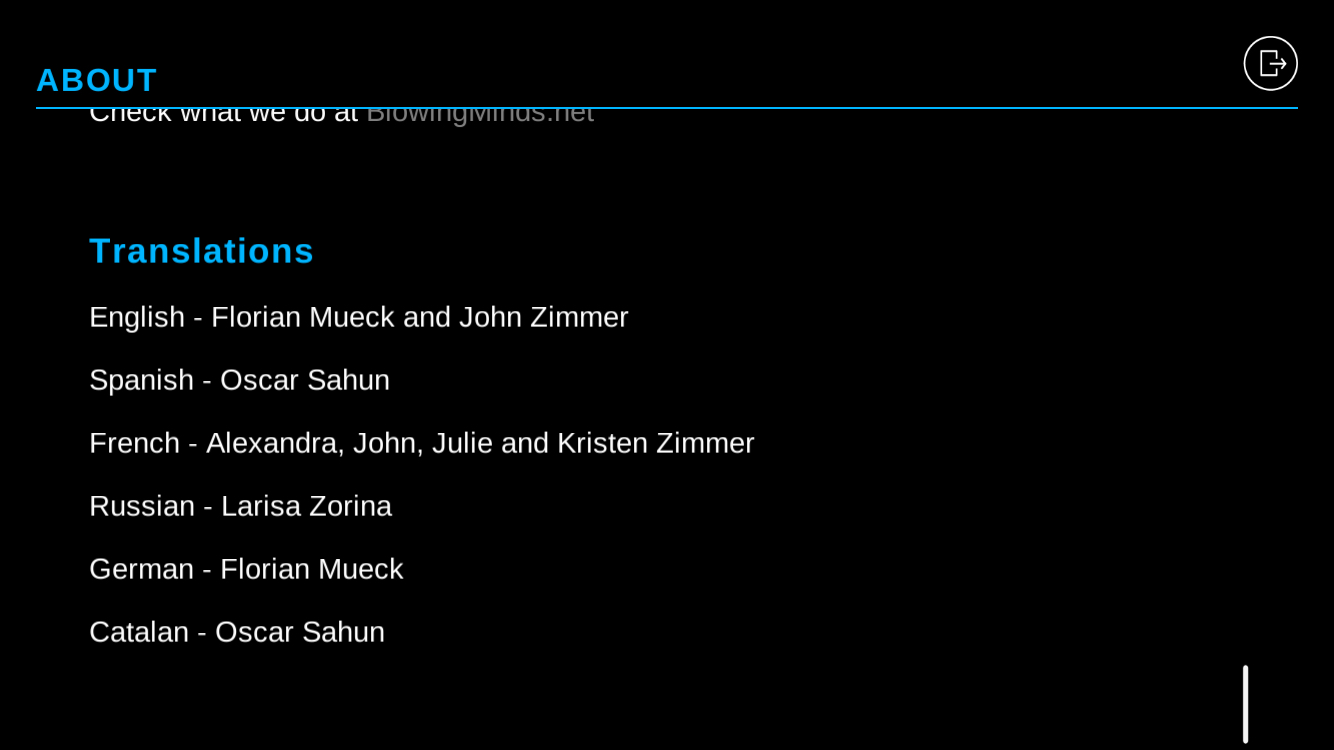 (Want to make things really tough on your friends? Change the language to Catalan)
3.) The requirements are interesting and cover the skills great speakers use all the time (quotes, stories, analogies, humor, CTAs).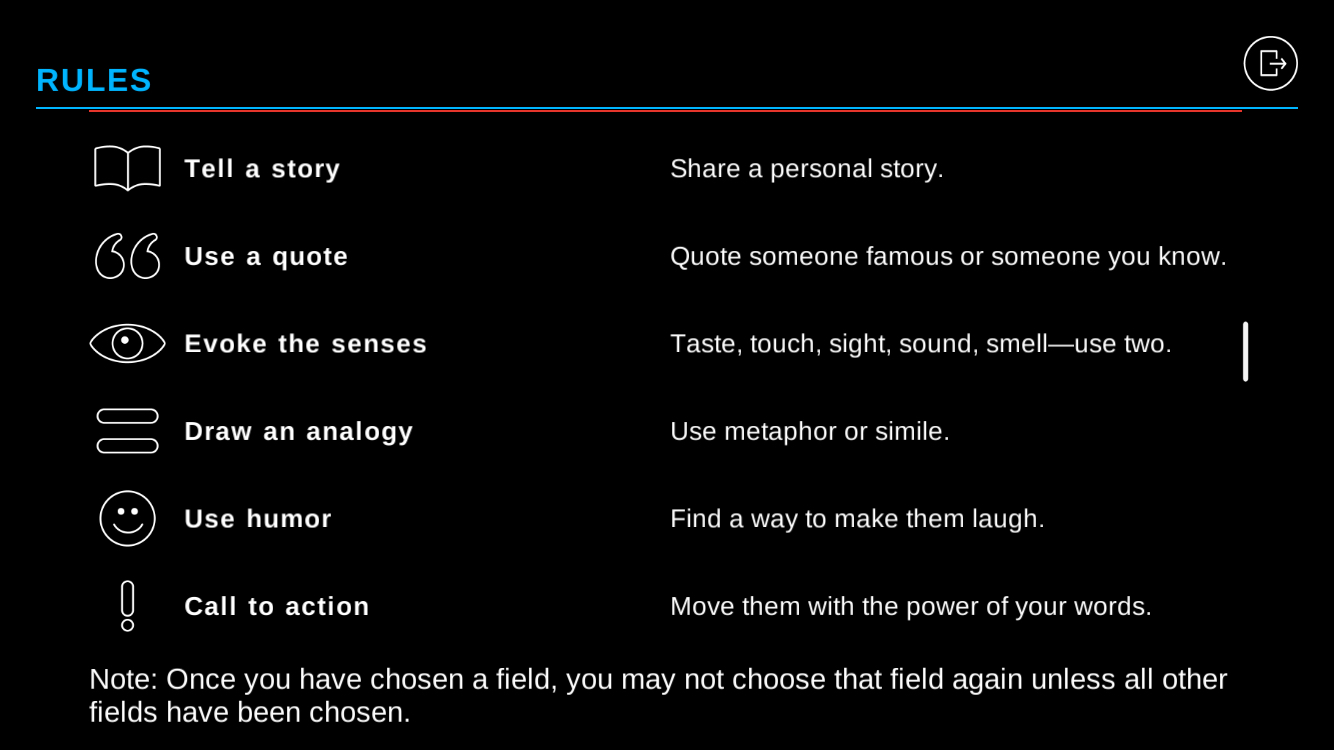 4.) Question cards! We've all been hit with an unexpected question at some point or another. This is a great way to practice thinking on your feet!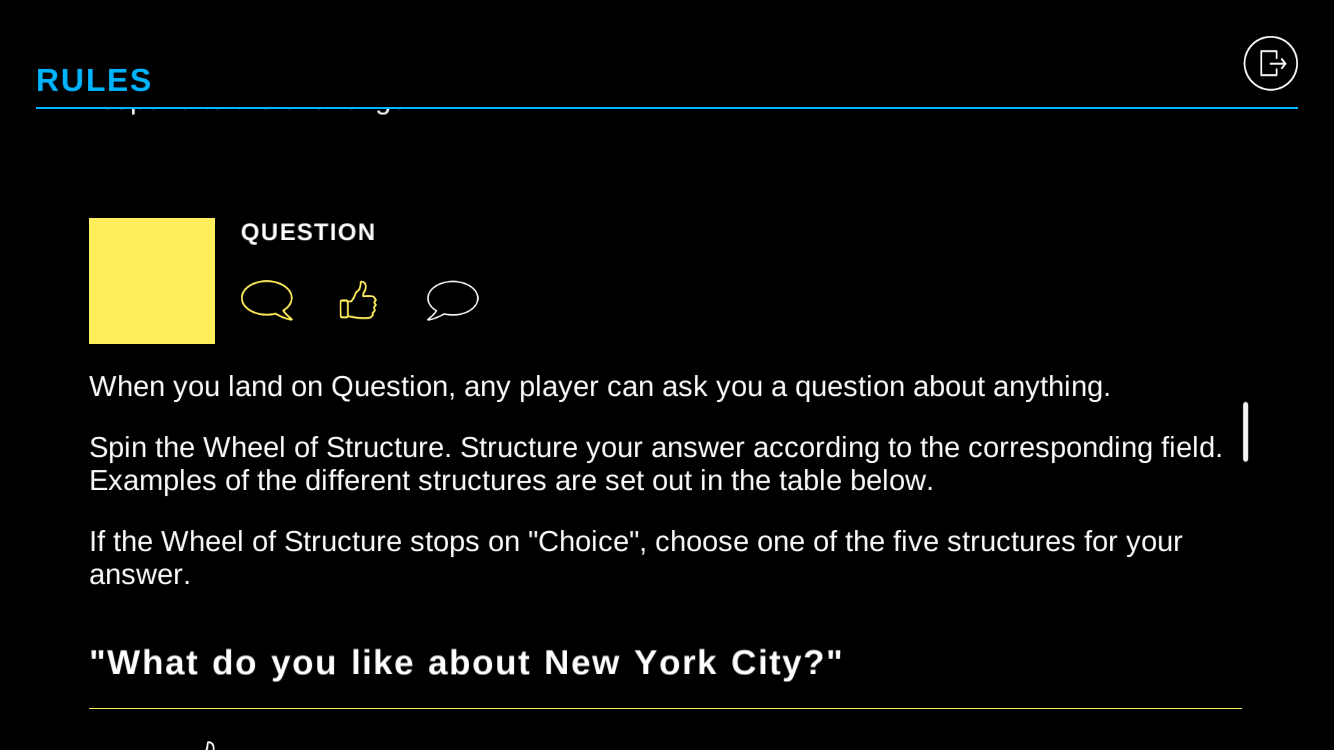 5.) The experience of getting live feedback in a relatively safe environment.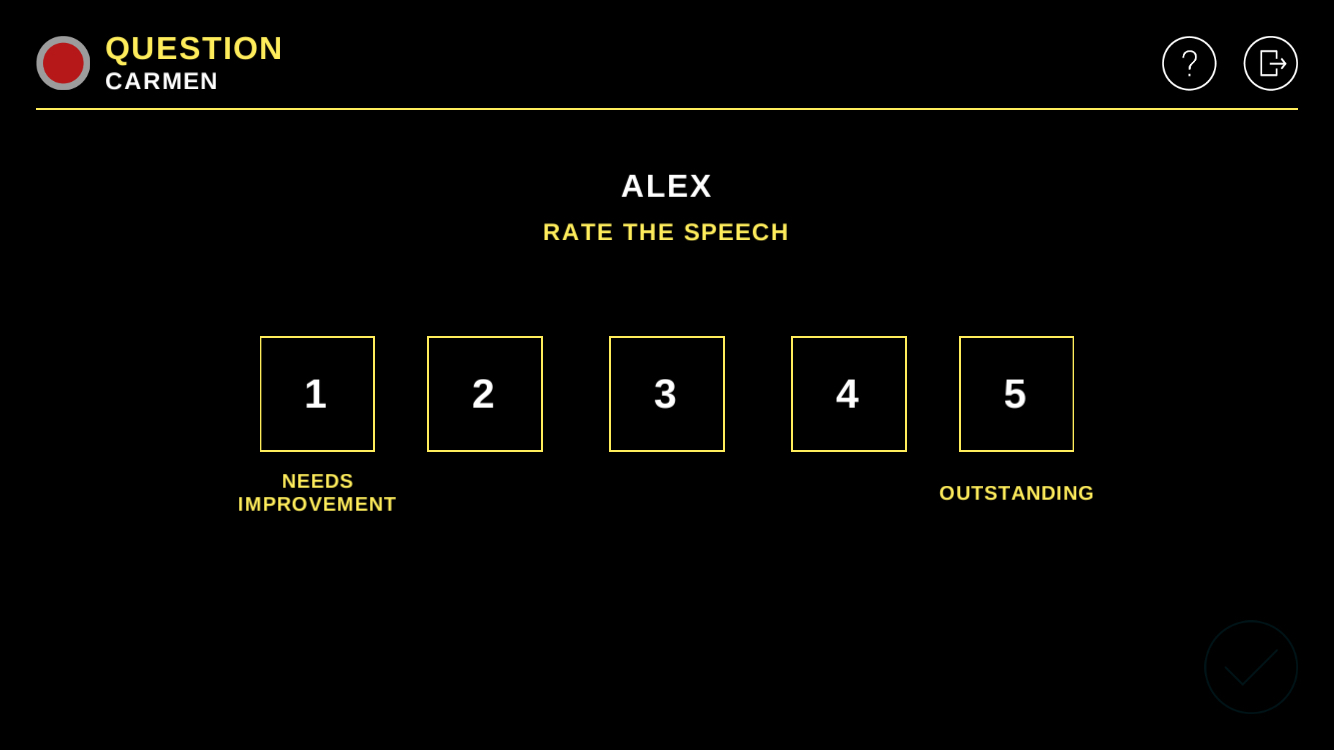 6.) Theme options for game play;  family, business and classic!
What I'd change:
1.) The print is small and tough to read on a phone.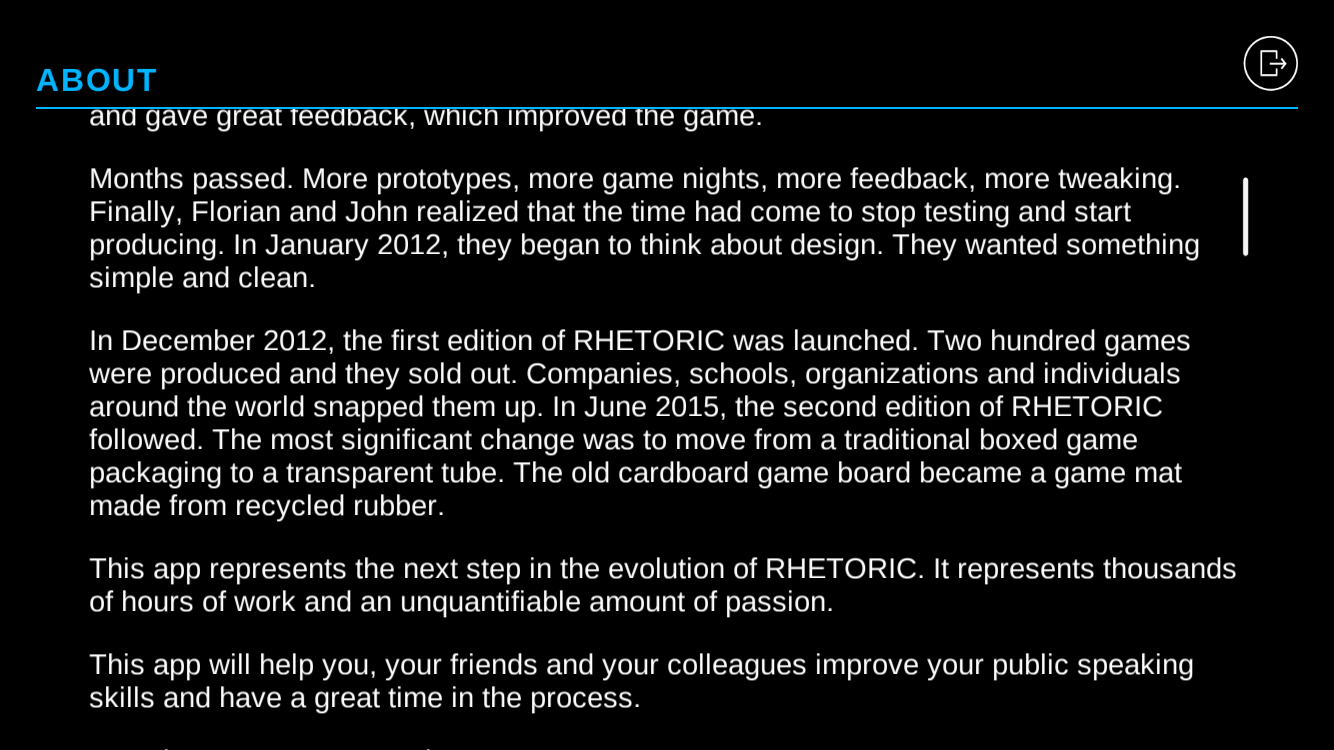 2.) Too many topic cards. We landed on these a lot and would've liked to have had more chances with the other cards.  (maybe that's an algorithm thing or maybe it was just us)
3.) Passing the phone. Personal preference here, we bumped buttons a few times which delayed game play.
Features I'd love to see added: 
1.) A voice feature that would read the cards and requirements.   This would eliminate the need for glasses to read the small print and help with the accidental button push problem.
2.) An option to increase the challenge. It would be great to have simulated challenges that speakers face from time to time (e.g. unruly audience member, someones phone going off, snoring…etc.) that might throw the speaker off their game. These could be added by another player or built into app itself.
Listen, you don't have to be prepping for some big speaking event to find value in this game. It's great for anyone who wants to have fun talking and get to know people better.
As a speaker and coach, I will absolutely use it  as a tool for skill development in public speaking.
We have to practice any skill in order to get better at it, and what better way to practice something than by making it a game?
Have you ever played a game like Rhetoric? What do you think about using an app to teach and work on public speaking skills? Comment below! 
https://pswithalex.com/wp-content/uploads/2018/04/img_9487.png
750
1334
Alexandra Rufatto-Perry
https://pswithalex.com/wp-content/uploads/2018/04/logo_pswithalex-1.png
Alexandra Rufatto-Perry
2018-04-10 22:22:21
2018-04-10 22:22:21
Want to Play a Game?